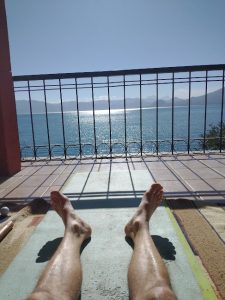 So I am about 1 ½ months into what's becoming a 3-month adventure: it's looking like roughly two months digital-nomading in the hippie paradise of San Marcos La Laguna, Lake Atitlan, Guatemala. Followed by a 3 ½ week yoga retreat at Hridaya Yoga in Mazunte, Mexico, which is about a two day overland trip from here. Mazunte, by the way, is yet another "consciousness hot spot", similar to here, to Bali, to Koh Phangan, Thailand. I spent about 9 months in Koh Phangan in 2014-2015, but I knew nothing about San Marcos or Mazunte prior to arriving here.
I am writing to share some reflections on my experience here. This article covers the events, wins and challenges I have had here. Along with thoughts on my return to the digital nomad life, which I thought I had left forever in 2016. If you are an Authentic Relating (AR) geek like myself, you may want to read instead the related post Circling Evangelist hits the streets in Guatemala: successes and humblings, which goes more into the consciousness and business aspects of this trip. There is some duplication of content between the two posts. 
Joys and challenges of the digital nomad life…
I came here on an invitation from my friend, Jacques the Party Scientist, to join a 10-day entrepreneur co-working space in San Pedro, which is the larger nearby village to San Marcos, a 10-minute boat ride from here. Behind that decision was a desire to escape Covid, to have an adventure, and to practice "Circling evangelism" on the street (i.e. to build authentic community). Note that fleeing the Wyoming winter was not a factor, as I love the Wyoming climate in all seasons and was quite content in my Little House on the Prairie. 
Well, the trip took an unexpected turn from the beginning, as nobody else showed up at our entrepreneur co-working space. Which we were both quite happy about, as we got a good deal on an AirBnB overlooking the city that we could easily afford, and I was busy that first week exploring the area, the food and the markets. Traveling in the third world is always extraordinarily trippy at the beginning: figuring out where to go, how to get around, and satisfying the three imperative needs of digital nomads: lodging, internet and good coffee 🙂 . Food is never a problem anywhere, and always an infinite delight given the prices. You can see some photos and read the story of my "chicken bus" ride from Guatemala City to San Pedro here
From there we moved to San Marcos (the hippy paradise) into a large 4-bedroom villa right on the lake that I call "the frat house" because its 5 guys, all entrepreneurs, all young except for me, and none of them very motivated to clean 🙂 . Even so, this was quite a coup because the village is overrun with people (its quite small) and lodging is scarce in the dry season, which goes until approximately May. It's been truly wonderful to wake up in the morning at sunrise and do my yoga on the balcony (something I have been promising myself to do for the last 40 years but never succeeded), and then a swim in the lake. The weather is perfect. 
But other than these initial successes, nothing has worked out as expected. The house wifi is inadequate for Zoom (the bread-and-butter of my life: I am active in at least 3 online communities in addition to my own private groups). I had at least one melt-down over this until I figured out the solution, which is to connect zoom video through the house wifi and audio through the local 4G (it takes 3 devices but it works). More importantly, my energy has been very low. I have been feeling old, tired, and ugly, and unable to keep up with the "kids" (including Jacques and my other housemates) and the huge range of transformational and networking opportunities in the village (remember I came to meet people in physical reality rather than online, so this was disappointing). 
And yet, I find myself quite happy at the moment. It has required a level of "surrender" that is new for me, to take life as it comes rather than constantly projecting myself into the future and finding fault with my situation, myself and others. It does help, in terms of "surrender", that even within my current physical/emotional constraints and limitations, there have been at least two very big wins. 
The first big win is that "circling evangelist" is doing quite well.
There is a small AR community here already, and I have joined the leadership team in producing a weekly circling event, which we hope to develop into a community. I have also created 3 weekly circles that have been simply phenomenal, every one. These circles have rocked my world because I have found a way of leading and of framing / marketing my offer that is quite compelling and works. Essentially I am reframing my main offer as courses in Relational Leadership through the art of Circling (sample promo here, for more context read the Circling Guide post).  I feel incredibly blessed to have found something to do that is so powerful, that I am so good at, and is part of a global movement for social transformation (i.e. I have a lot of peer support). It is practically the end of an era for me, the end of what I have been calling, "the 40 year war against myself and against the world, trying to make a buck and get a little love, mostly unsuccessfully". I really cannot describe the impact of this. It's also vindicating everything I have been saying for 5 years, that the real potential of Circling is to bring it into work groups, intentional communities and other collaborative ventures. I am on it.
And the second big win is that my connections here, although not many, have been profound.
Jacques is practically like a son to me at this point, and the other "frat boys" are also very interesting and doing high-level work. One of my housemates is a crypto maven and community-builder and there are important conversations happening around that. Three weeks ago I met a man whom I consider a bona-fide saint, a wandering sadhu, who has given up a 6-figure career as a therapist to teach love. His name is Drazzo, and he gave me some profound lessons having to do with self-love and surrender, my current developmental challenge. We are now friends. I also discovered an author called Sam Harris who has a powerful mindfulness teaching, and downloaded his meditation app  called Waking Up which I am working with. Learning how to meditate is another one of my unfulfilled lifetime goals, having attended 3 long meditation retreats and succeeded in "meditating" a total of 30 minutes or so, in all of them.
Anyway it is really strange how so many interesting things are happening DESPITE my physical state and usual mishigas (negative internal dialogue). It all feels quite magical, actually. Like I am not sure I really deserve this. And it may even be that the best is yet to come. 
It does feel good to write. I may post an update when I get to Huehuetenango, where I am going in 10 days (prior to the yoga retreat) for a hiking vacation, to rest and recoup from all this excitement. But I will leave it there for now.
Please comment!