Context for this article
When I built-up my 32′ Fifth-wheel RV as a permanent home in summer of 2021 I was looking for a small wood stove. I really wanted the Cubic Mini Grizzly stove. It was the right size for this space (8,000 to 18,000 BTU/hr, or 2.3 to 5.2 kW), it had a secondary combustion system, and it had a riddling grate (this lets you run it continuously because you never have to remove the ashes from the firebox, you just "riddle" them into the lower grate and pull it out). However at the time it was $1000 ($700 now, which is actually a really good deal), and I could not stomach that given I wasn't sure that it was going to work for my space, or even that I would be living in this space for more than a season.
So I bought the standard size Guide Gear Outdoor Wood Burning Stove , which was only $150. Its officially not an indoor model, but I thought, well a stove is a stove. To my great pleasure (and some surprise) it worked perfectly for 2-3 months. It cranked up to a peak box temperature of 400-500 Celsius (which is VERY hot — I use an infrared laser thermometer which is cheap and easy), heated up my place like a dream even in zero Fahrenheit outside temp, and was controllable, to some degree, through the front air inlet slide. It did not have secondary burn or riddling grate, but for those $850 in my pocket, I was a winner.
Here is what the installation looks like, with the wood-stack on the left (I used sheet-metal heat shield with ceramic spacers, the recommended technique to put it into a smaller space):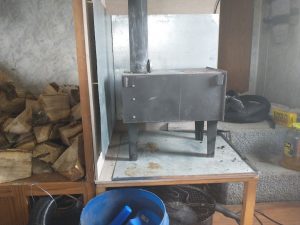 And here it is with the double-wall insulated roof exit. Another big advantage of the Guide Gear is that it comes with about 6 feet of 4″ (approximately) pipe. I made the insulated double-wall with 6″ standard stove pipe and ceramic fiber insulation used in kilns. I could probably have used standard fiberglass insulation, but I wanted to be on the safe side. Altogether, with stove and installation, was probably close to $500; but I would have needed the extra pipe and roof exit anyway: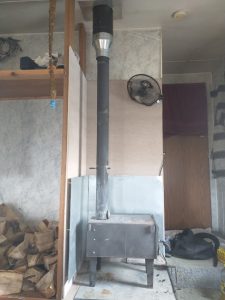 Here is the roof exit. I added an extra 3′ section of do-it-yourself double-wall insulation on the roof too in order to increase the draft, which gave me almost 9′ height of which about half was double-wall. That ought to give some good draft ("draft" is the air-flow caused by the difference in temperature between air inside the chimney and outside air — the greater the temperature difference and the greater the height, the more air is drawn into your stove and so the hotter it gets):
The photo doesn't show this well, but I also put a so-called "wind directional chimney" on. It blows here in Wyoming, and I did not want to run the risk of smoke blowing down my chimney. The chimney works well , except after one season it creaks a bit when it rotates.
First-season results
Everything worked fine initially. After 2-3 months however, the stove could only run hot. If I dampened it down by partially closing front vents, it would smoke and eventually go out. I ended up just completely shutting it down by closing intake vents when it reached desired inside temperature, and opening it up when it got cold inside again (which sometimes required re-starting, I use an electric barbeque starter element). I also became obsessed with having enough coals (a wood stove requires a bed of coals to work well). All this was inconvenient and I don't like to get obsessed about technology, the whole point of good technology being that it takes care of itself.
I never actually figured out the reason for this. I hypothesized it was soot buildup, but in the spring I cleaned the chimney and there wasn't much soot.
Anyway, as we heading into another season here I had a simple idea to turn my $150 wood stove into a $1000 secondary combustion system.
What is a secondary combustion system?
A secondary combustion system mixes fresh super-heated air with the exhaust gases. This increases the stove efficiency (exhaust gases, or wood smoke is actually combustible) and decreases soot and creosote deposit on the chimney (which is actually dangerous as it can cause a so-called "chimney fire". If you heat regularly with wood you need to sweep your chimney yearly and maybe more often).
My plan was quite simple. I am not sure how the Tiny Wood Stoves secondary combustion system works, but all it needed was a metal plate inserted at the back of the stove, and holes drilled, also in the back of the stove, with a sliding metal airflow valve (same design as on the front).
My cheap wood stove upgrade to secondary combustion design
Looks like this. Should be self-explanatory.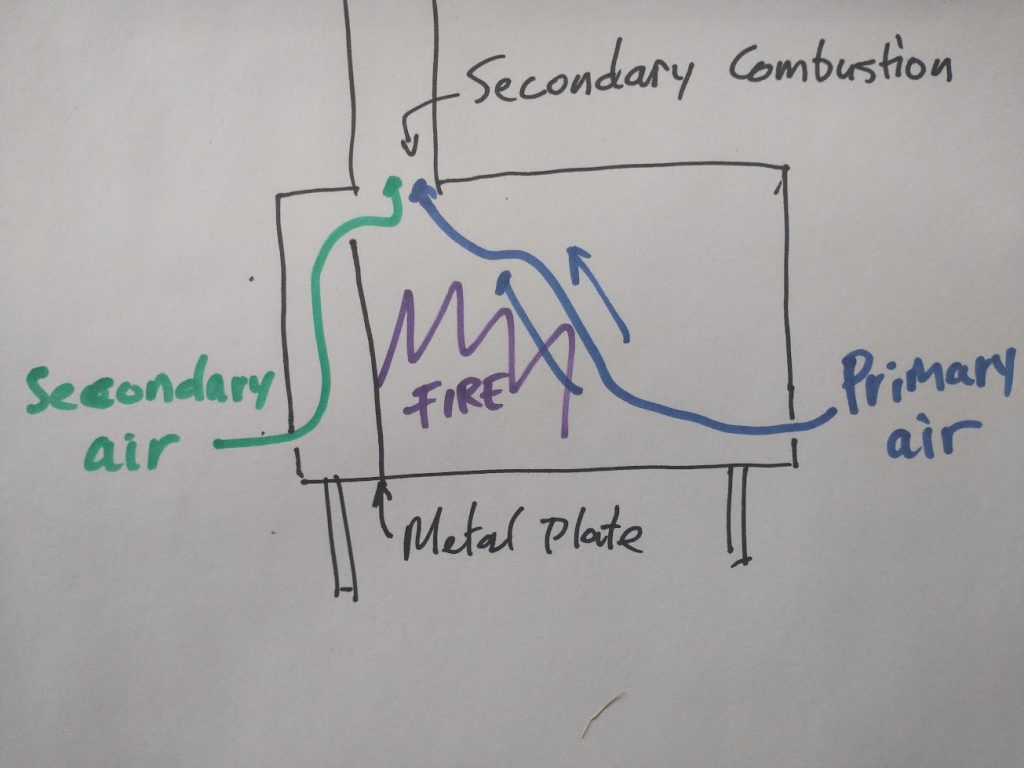 Another thing that I am hoping with this design, is that the back metal plate would get quite hot, which will hopefully super-heat the secondary air resulting in more complete combustion.
I used 1.5 mm plate from a recycled house electrical-box door. I thought that would be thick enough that it would not burn out at the high temperatures inside the stove (for comparison, my heat shield is 0.4 mm think). I had to bolt two plates together because the piece I had was not wide enough, and also the electrical-box door already had bent edges (which I needed to bolt the plate to the sides of the stove), and I don't have the tools or knowledge to bend thick metal plate. Stove inside looks like this:
The backside air-flow valve looks like this shut: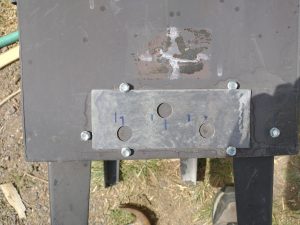 And like this opened: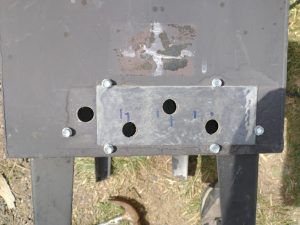 The nice thing about this design (was quite pleased with myself, honestly) is that you don't even need precise drilling of the holes. You put the outer plate in "open" position and then just drill through the plate and into the stove using 5/8″ metal cutting bits, guess-stimating where the holes should go. The screws are self-tapping sheet metal screws, which are also very quick and easy.
Finally I put firebrick that I bought from Harbor Freight (only place I could find), it needed about Qty 12 of 9″ x 4 1/2 x 1 1/4 firebrick at about $4 each. Firebrick can be cut with a masonry blade on a standard portable circular saw. I cut the sheet metal with a metal blade, same deal. The blades are about $12 on Amazon.
Looks like this inside with the firebrick: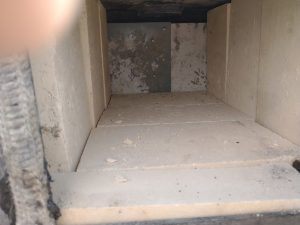 In this photo you can see the back plate as well.
Initial performance tests
Haven't yet tested it in a winter, however I was able to get the peak box temperature up to about 375 – 400 Celsius, which is acceptable (wood stoves need to burn hot to be efficient). I am guessing that the smaller inner size will result in a cooler stove — which is really what I want. Also with the firebrick, I would hope that it would burn better at a lower heat output.
I also had the quite interesting thought that you can make it burn hotter or cooler by removing, say, the lower layer of firebrick (a larger burn chamber would, presumably, create a hotter burn. Remember the problem here is that it burns TOO hot, and can't be dampened down without putting it out). This is an advantage over even the pricey Tiny Wood Stove, that the Grizzly model has only one heat range configuration (8,000 – 18,000 BTU/hr is what they say — meaning you can't get it under 8,000 without it going out).
I am hoping it will go well for me come winter, because it would mean for roughly $200 and a half-day's work, I got me a wood stove comparable to a $1000 one.
I will make an update here when I have tested it in cold weather.
Thoughts, comments?
Any wood stove experts want to chime in here? Is there any theoretical reason why this will not work just as well as the Grizzly (and maybe better as you can set it hotter or colder by adding / removing firebrick)?
Depending on comments, I might even turn this into a business. I could sell a $25 plate with installation instructions, offering people the chance to make a $225 wood stove with same performance as a $700 Tiny Wood Stoves Grizzly (that would be $150 for the stove, $50 of firebrick, and the plate I might sell for $25)