Context for this article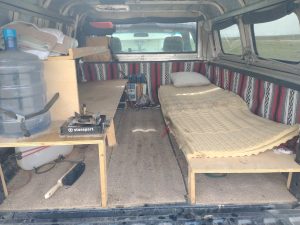 When gas exceeded $4 per gallon this summer, I decided I needed to do something with my 2013 F150 with a cap, that I had converted into what I called "the micro-RV" (photo to the right). I was really very happy with the micro-RV, but I was able to get a 2009 Ford Focus with 80,000 miles for $3400. I probably put in another $1200 (total under $5k). I almost doubled my gas mileage (from 22 to roughly 40 mpg highway) and freed up $10k of equity (difference in price between the F150 and the Focus). I got the Focus so cheap because it was a 5-speed manual and because it had body damage from a Black Lives Matter demonstration (it was walked on). The body damage means nothing to me because I will never be reselling this car (I will keep it until it dies) and because it increases my affection for it, its like a historical relic.
The downgrade did, however, decrease my living space from about 200 cubic feet in the micro-RV to roughly 60 cubic feet in the nano-RV (not including front seats that are not "living areas"). We'll see how it goes in my next trip (which is coming up in a few days), but the features / functionality are exactly the same. Woo-hoo!
Truth is, that "real" RV's (motorized or towed) are no longer viable as travel vehicles with these gas prices. You have to be rich, which I am not. RV's are only viable now as mobile homes (i.e. seldom moved, such as my 5th Wheel that I use as a home); or else for short distances.
So here is what I did — I will go in sections
Body, hitch, rear rack, refrigeration (about $350, excluding the 12V freezer that I already had)
I took out the back seats, built a sleeping platform on the passenger side behind the seat (it takes up roughly half the floor-space LOL), built a fold-down 3rd passenger back seat on drivers side, and added a rear cargo rack. Looks like this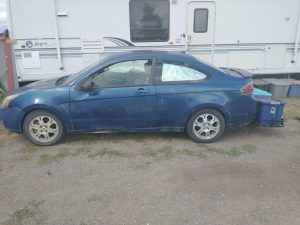 Photo below: looking back from driver side (clockwise): the "refrigerator", bed, and first storage container (there are 4: one behind driver, one in back, and two on rear carrier). I have to fit my life and my kitchen into 4 big plastic containers, which isn't actually too bad. The RV battery is behind the passenger seat on the floor.
The way the "refrigerator" (cooler) works is that I have a 12V freezer that has both frozen food and a flat "F-style" gallon jug containing water mixed in 8% with propylene glycol (i.e. a freezer pack). I have two of these, and every day I swap out the freezer packs between the cooler and the freezer. Works good. I did get an "ultra" (super-insulated) cooler. [post link here]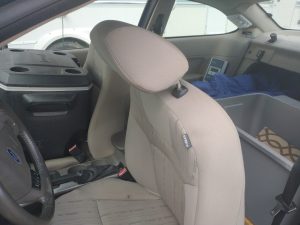 Rear Carrier: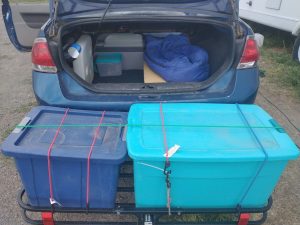 This was actually the most challenging part, because the carrier needs a Class 3 Hitch (2″ mount), which they don't make for Ford Focus. The hitch was a Reese Towpower Multi-Fit Trailer Hitch which was only $150 when I bought it, and I got the rack on sale for $50, so total $200 for this part. Getting the hitch on was a bitch, it was the only part of this build that I was not sure I would succeed. You first have to get everything out of the way (in my case, the tailpipe), then you have to jack it up exactly in place (not easy as it weighs 50 pounds), then you have to set it exact width for your car beams, then you have to drill holes in the beams (in case there are not already well-positioned existing holes) and thread the bolts and support plates through the open end of the beams and into the hole from the inside (Lots of wire probes here. The support plates are designed such that they lock to the bolt, so you can tighten it only by turning the nut). Here is a bolt, support plate, and guide wire. Its actually pretty cool: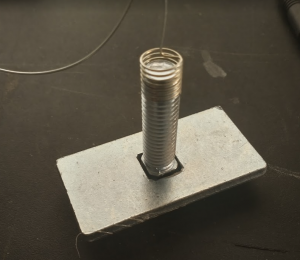 Anyway, took me a day and a half and I sweated bullets but I did it. It doubles my cargo space and ought to have relatively low impact on the mileage as it sits in the back, out of the "air flow zone" rather than a top rack which would definitely negatively impact the mileage. Its also much more convenient than a top rack, and it can be doubled-up in height for moving or heavy use.
(Also in this photo on top you can see the diesel heater, the "toilet", the freezer and the sleeping platform)
The fold-out (optional) passenger seat is behind the driver: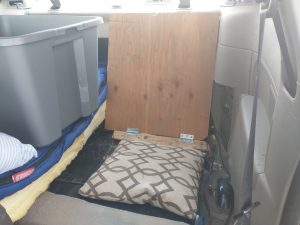 Diesel Heater (a bit over $100)
This also worked out good, much better than I expected. It's in the back left. You fill the tank from the trunk. It holds 3 gallons which can last as many as 120 hours.
Close-up: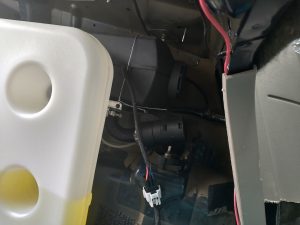 It exhausts through a (very fortunately placed) hole in the left back floor: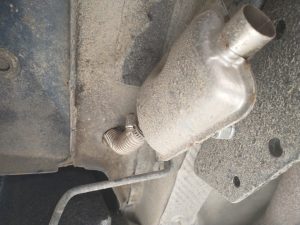 I have become something of an expert on diesel heaters, by the way. They are marvelous machines but also finicky. They consume as low as 0.1 liter per hour (so my 3  gallon / 12 liter tank can theoretically last 120 hours), or more typically 0.3-0.4 liters per hour. In such a small space I would probably run it at the minimum 0.1 liters/hr.
The "finicky" relates to the need to set the proper pump-rate (fuel injector rate measured in Hz or pumps per second) and air-flow (measured in fan RPM). Especially at my altitude here of 7000 feet, if you don't do this it burns too rich and puts out carbon that will rapidly destroy your unit by depositing carbon on the inner combustion chamber which kills heat transfer. Its a genius design, it has an aluminum chamber with fins inside and out. Inside of chamber is where combustion happens (there is a glow-plug), outside of chamber is the hot-air flow. Its fairly economical on electricity too, runs about 12V / 2A (or 10A when starting).
Anyway the issue is finding a model that you can configure the fuel-pump Hz and fan Rpm. I went through several models and finally just ordered a new controller board from China and fit it onto a model I had. Was pretty easy. Ping me if you need details.
Electrical: RV battery, panels, solar charge controller (about $400)
The RV battery is behind the back seat, under a fold-out cover (underneath where I lay my head at night):
Folded-down looks like this:
This works well for sleeping but also for working on the laptop or reading, leaning back against the passenger seat
The solar charge controller is mounted nearby (so i can easily check battery voltage and charging current from solar):
I use the cheapest EPEVER MPPT controllers, only about $60 on eBay. My experience is that cheap solar charge controllers (i.e. not true MPPT ones — sometimes they are advertised as MPPT but they are not, you can tell by the weight) burn out batteries. Also you get another 20% conversion efficiency from an MPPT controller (it has a transformer that converts the solar panels voltage to the optimal voltage for battery charging) and  you can connect two panels in series, giving 36V which a cheap charge controller could not handle.
Here are the panels. This time I bought folding panels and made 70 feet of cable. On the micro-RV I had roof-mounted panels, which are more efficient and cheaper, but if you are at a site where the parking spot doen't have direct sun its no good. The portable panels can be moved to maximize sunlight. The cable hooks up to the back of the car (so you have to remember to detach them if you drive-off for errands, this is a disadvantage as I can be pretty brain-dead).
They look like this:
Electrical: Alternator connection, Battery isolator relay, Inverter, and chainsaw (about $250)
This was actually the most fun part for me. Challenging, but I never doubted I could do it (unlike the hitch installation in which I was sweating bullets)
The idea here is to have an option to charge the battery from the car alternator. And optionally use the car engine to power high-wattage operations.
I was able to find a 1500W "true sine" inverter for cheap ($100). "True sine" inverters are necessary to power AC induction motors (that are practically speaking the only type of AC motor in use). I successfully tested running a 120V / 9A chainsaw (about 1kW). This is very handy for cutting firewood at camp. You run the engine while running the chainsaw, otherwise it would drain the battery very quickly.
Basically you need to run a heavy-gauge cable from the battery positive terminal, into the cab, to one power terminal of the battery isolator relay. I found a $40 kit on ebay that had everything necessary including 10 feet of 4 gauge wire. The other power-terminal goes to the RV battery.
Start by connecting a wire (and fuse) to the battery (you can't take power from the cigarette lighter, it is fused at 10A and we want 30-40A flowing to the battery and inverter):
Then thread the cable from the inside of the door into the body (that was the challenging part — you have to run steel wire into the various holes and poke around until you get through to some place interesting)
Into the cab where you mount the battery isolator relay underneath the front driver compartment (where all the other wires come in)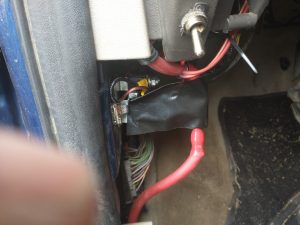 You can see the incoming (cable to the alternator) in red on the top to power terminal 1 of the relay. The outgoing cable is on the bottom and goes to the RV battery.
The switch (shown on top) basically turns on the relay to power the RV battery when the engine is running. What you do is take a tap into any ignition signal (the fuse-box is directly below, you just poke around with a voltmeter until you find an ignition wire), and connect it to one side of the switch. The other side of the switch goes to the first control terminal of the relay, and the second control terminal goes to ground. What this means is that if the ignition is off, the relay is automatically disconnected regardless of the switch (because there is no ignition voltage). If the engine is running, then you have a choice of charging the battery (or powering heavy equipment) through the switch. I also (not shown in the photo) mount a cheap 12V voltmeter on the dash, so I can see the RV battery voltage (when relay disconnected) and turn on the switch if it needs charging while I am driving. You do not want to leave an RV battery permanently connected to the alternator as they tend to charge fixed voltage about 14.4 volts, which will fry an RV battery eventually (its not a big deal on the car battery, because the car battery is only used for seconds each day to start the engine. An RV battery however needs to perform to its rated Amp-Hours for as long as possible).
Voila! There you have it.
I am super-super happy with this.
The whole system (roughly $1200) actually pays for itself by saving you money from staying in hotels or eating fast-food. But even more than that, its a quality of life issue (good food, hot coffee in the morning or whenever you want, or Chai that I like and can't buy, etc). And also you can boondock indefinitely provided you have a water source. Not sure that I want that (boondocking indefinitely) but its nice to have the option. You can use it in any weather, even winter due to the diesel heater. If traveling long-distance, you can park in rest areas or Walmarts and sleep. You can actually live in it cheaper than rent (assumuing $400-500 /mth rent) and travel. I can make coffee / chai / hot water on a propane stove, and I also have a low-power heating element (I think its 300W) that I can run off the inverter, for on-the-road hot drinks or ramen / instant soups. I can charge a computer and phone. I have about 2 days of power autonomy on the fridge/freezer even if there is no sun; and if I am driving place-to-place (as opposed to boondocking) its no problem as I charge from the alternator.
Anyway, we shall see. 60 cubic feet (which equates to roughly 25 square feet floor-space) is pretty tight. I haven't actually tested the "toilet" (its a tupperware rectangle about 8-10 inches, you line it with a plastic bag and sit on it. Also you pee separately, I suppose if you are a woman this would not work). The "toilet" of course is only required for boondocking or overnighting in rest areas and Walmarts (and even then, you could probably use rest area bathrooms if they open all night). It's theoretically possible to cook inside, but cleaning up would be a problem. Normally I would expect to be over-nighting in State parks ($10-15/night). But this is still much cheaper, not to mention more fun, than staying in hotels. And you don't have to mess with a tent and its good in any weather. In cities I would presumably have a host, so I would only use the RV while on the "open road". I can have a full-time travel companion if I ditch one of the containers and put the cooler in the back (they would have to sleep in a tent). And I can ride total 3 people by putting up the back seat.
We shall see. Regardless, it's all good fun.
Hope you find this article interesting.